Rick Vrielijnck Recommendation for M17 and PGS Servo Setting
Thank you for visiting our website.
We would like to post
M17
and
PGS
servos system recommendation from Mr. Rick Vrielijnck (Team Infinity).
He is one of the smartest driver.
He well-known how to set up car, transmitter, servos in any condition.
His recommendation set up message for
M17
and
PGS
servos is in the below.
Dear Racers,
I hope you are all safe and healthy!
For sure like me everyone is waiting to finally get the 2020 racing season started.
Since it gives some more free time it might be a great idea to learn more about your Sanwa equipment and discover some interesting functions that I found very helpful at races.
The
M17
transmitter has been around for a while now and for me it has been and still is an amazing transmitter, besides all the functions the balance and overall weight are greatly improved over previous models.
2 years ago the
PGS
servo line was introduced and the main advantage is that this servo can be programmed through the
SSL
channel directly on the transmitter or with the Sanwa multi setting gear.
Also the
PGS
servo can be connected to the
M17
and be set directly from there as you can see in the video.
For now I would like to share some info about the way i use the
PGS
servo. On the transmitter there is the possibility to have 5 different racing mode's, for each mode you can select which parameters are changed.
I set it up in such away that only aux2 is changed and in that way I can have 5 different servo settings and change the feel of the car completely with just one button.
For me i found it the most easy to assign switch 2 to change between racing modes.
For 1/8th scale on-road I tried various types of Sanwa
PGS
servo's however i feel that for steering the
PGS
-XR2 and for throttle the
PGS
-XB2 is working very well, also for throttle the
PGS
-LH2 works very well if you need a smaller servo.
Please note that when using
SXR
mode it is not possible to use
SSL
and change the
PGS
servo settings remotely, it can only be programmed directly to the servo itself.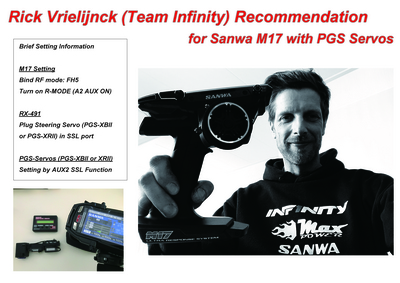 Here are some of my preferred settings for the steering servo (XRII or
XBII
).
Settings for a very low initial response, I use it if the car is nervous on steering input.
D-BAND: 4
MV-MID: 50
MV-END: 50
MV-HLD: 2
MV-FRQ: 80
The following settings I use for a lot of mid corner steering, I use these settings 80% of the time.
D-BAND: 2
MV-MID: 80
MV-END: 80
MV-HLD: 2
MV-FRQ: 80
I hope soon you can try the settings for yourself or try other values to perfectly customize it to your feeling.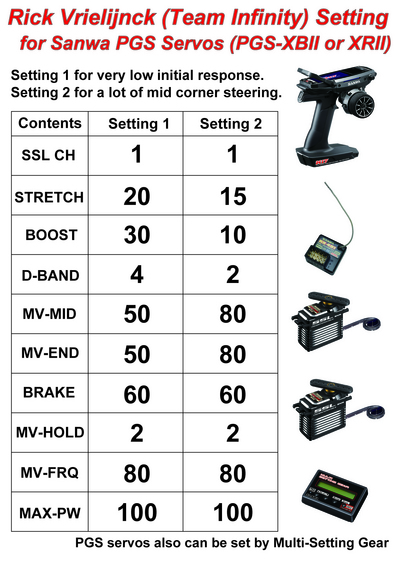 Upload: 200424