IFMAR 2016 1/8th GP BUGGY WORLD CHAMPIONSHIP
"SANWA M12S" got the first & the third!!!
IFMAR 2016 1/8th GP Buggy World Championship was held in Sep. 30 - Oct. 8 at RC Tracks of Las Vegas, in the USA.
7 out of 12 finalists used SANWA radios. And SANWA M12S got 1st and 3rd.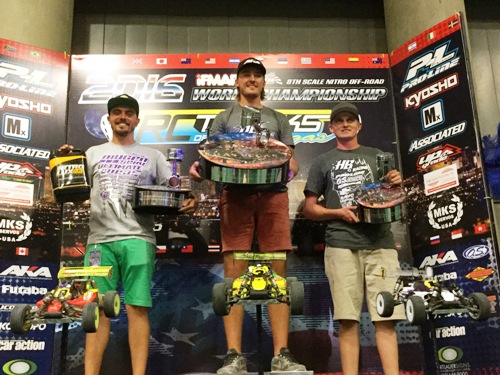 SANWA Radios share in the championship was 42.6%.
Thank you for choosing SANWA.
<RESULT>
 1st  Mr. David Ronnafalk (Sweden)  M12S
 2nd  Mr. Rovert Batelle  (Spain)
 3rd  Mr. Ty Tesman    (Canada)   M12S
 4th  Mr. Jared Tebo    (USA)
 5th  Mr. Ryan Cavalieri  (USA)     M12S
 6th  Mr. Davide Ongaro  (Italy)    EXZES Z
 7th  Mr. Renaud Savoya  (France)
 8th  Mr. Ryan Maifield   (USA)     M12S
 9th  Mr. Ryan Lutz    (USA)
 10th  Mr. Elliott Boots    (GBR)    EXZES ZZ
 11th  Mr. Dakotah Phend  (USA)
 12th  Mr. Kyle McBride    (Australia)  M12S
Thank you, all drivers.