CODE 10 Function
Thank you for visiting SANWA website.
We would like to introduce our product function "CODE 10."
MT-44 and M12S(RS) can use CODE 10 function to combine with RX-472 or RX-482 and PGS servo series and Super Vortex Stock, Gen 2, or Gen2 PRO.
Using CODE 10 function are available to change servo setting and ESC setting without any connections and computers.
You do NOT need to take off body shell for setting.
Just you need to connect SSL channel and set transmitter setting.
Then, you could change setting whenever and wherever you need.
Changing setting by the transmitter will be great benefit for RC racers who are using our transmitter.
We recommend starting set when you try CODE 10 in the below picture.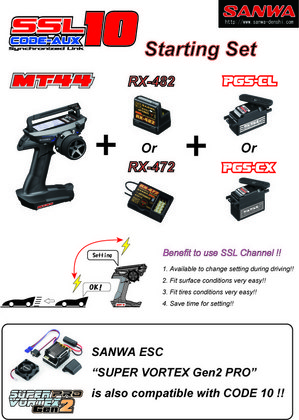 ※Click to large version