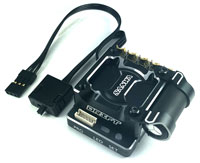 Compatible with SXR response mode will be most smooth feeling.
●Blushless motor (sensor type) compatible
●Compatible with SSL System (only compatible with transmitters and receiver are installed SSL system)
Using with compatible transmitter (M17, M12S(RS), EXZES-ZZ, or MT-44) and compatible receiver (RX-491, RX-482, RX-472, and RX-47T), SV-D2 can be set by transmitter.
*RX-491 can be only used by M17.
Can get information about Motor RPM, Battery Voltage, SV-D2 information without sensor by Telemetry function.
●Installed 4 basic programs and 10 programs mode.
In case of using Program BOX Gen2, 4 program mode can be set.
●Special design for Drift
●New design Capacitor holder
Optional parts: Sensor Cable, Power Wire, Cooling Fan, Power Capacitor, and AL Capacitor Holder

Notice) Motor is opposite to Depends on the chassis.
SV-D2 do not have function for reverse motor. Please check the motor revolve way when you purchased.

【Additional Explanation for SV-D2】
PROGRAM BOX Gen2 need to change firmware for using SV-D2.
Please download and update firmware for SV-D2.
PBOXA001_0104100.zip
*After firmware update for SV-D2, PROGRAM BOX Gen2 did not apply for SUPER VORTEX Gen2/ Gen2 PRO.
If you needed to use for SUPER VORTEX Gen2/Gen2 PRO, please download firmware for SUPER VORTEX Gen2/Gen2 PRO and update again.
PBOXA001_0103001 (2).zip
【Important】
Firmware for SV-D2 and Gen2/Gen2 PRO cannot save together in ONE Micro SDHC card.
PROGRAM BOX specification only hold ONE firmware, and cannot read if changing firmware name.
If you using SV-D2, Gen2 PRO, Gen2, please prepare 3 micro SDHC cards.
Please save each firmware in each micro SDHC card.
【Important】
In case of writing SUPER VORTEX Gen2 PRO firmware to SV-D2, SV-D2 will be worked as SUPER VORTEX Gen2 PRO.
In case of wrong writing the firmware, please rewrite SV-D2 firmware.
【Online Manual】