PROGRAM BOX Gen2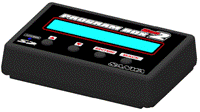 ●It allows to arrange all setting of SUPER VORTEX Gen2 ESC and update the firmware of SUPER VORTEX Gen2.
●It's compatible with Micro SD card. The changed setting by PROGRAM BOX Gen2 or SUPER VORTEX Gen2 ESC can be saved into Micro SD card.
*Micro SD Card is optional item.
Micro SD card for PROGRAM BOX Gen2 (107A90581A)
You can use your own Micro SD card or Micro SDHC card.
Nominal Input Voltage
Rated Current
Voltage drop
Dimensions
Total Weight
【ESC FIRMWARE (DOWNLOAD)】
●SUPER VORTEX Gen2 firmware・・・・・・G2102006(zip)
※The above is the firmware for the first production lot of SUPER VORTEX Gen2 to
be able to change setting from PROGRAM BOX Gen2.
This firmware is only for SUPER VORTEX Gen2.
When you use our original Micro SD card (107A90581A) together with PROGRAM BOX Gen2,
The Micro SD card includes this ESC firmware.
However, if you use your own Micro SD card, please download the above firmware,
decompress the file of ".PRG" & "PRO" and save their file in root folder of Micro SD card.

[SUPER VORTEX Generation2 User Manual Movie]
●Movie1: Overview

●Movie2: Transmitter's Setup and Calibration of throttle positions

●Movie3: How to change the setting by ESC Setup Button

●Movie4: How to change the setting by SSL (Transmitter's Remote Setting)

●Movie5: How to change the setting by Program Box

●SUPER VORTEX Gen2 PRO Firmware: G2103001.zip
※The above file is for SUPER VORTEX Gen2 PRO 1st firmware.
It also can use for SUPER VOTEX Gen2.
Gen2 PRO additional functions will be added if uploaded to Gen2,
After uploaded the firmware to Gen2, Please upload PROGRAM BOX firmware for SUPER VOTEX Gen2 PRO.
●SV-D2 Firmware: PBOXA001_0104100.zip
PROGRAM BOX Gen2 need to change firmware for using SV-D2.
Please download and update firmware for SV-D2.